Unusual Boiler Repairs
- London Boilers®
For North London and Hertfordshire
Unusual boilers are listed as below, and they are mostly thermal store types:
Powermax (Range)
Powermax HE (Potterton)
Promax HE Store (Potterton)
PulsaCoil (Gledhill)
BoilerMate (Gledhill)
SysteMate (Gledhill)
ElectraMate (Gledhill)
GulfStream (Gledhill)
Highflow (Worcester-Bosch)
Ultrapower (Glow worm)
Vitodens 222-F (Viessmann)
Heating Interface Unit (Danfoss)
Electric boilers
The concept of "Unusual Boilers" was first mentioned by Mike Bryant at
http://www.miketheboilerman.com/. Mike Bryant is a top independent boiler repair engineer for Powermax boilers and Gledhill thermal stores.
"Most good things have a drawback though. Thermal stores go wrong just like any other type of mechanical devices, but finding a heating engineer to repair one is not so easy as with a gas-fired heating system. Many heating engineers are unwilling to deal with them because they are powered by electricity, not gas (or oil), and they are not electricians. Electricians also avoid them because they are full of water and obviously for a plumber or heating engineer to fix!" - By Mike Bryant
The charges in Great London
London Boilers® offers unusual boiler repairs for Hertfordshire and north London. In in London the charge is £90 + VAT per hour for labour, plus a £90 + VAT call out charge.
Powermax Boiler Repairs
Range Powermax boilers, or simply called Powermax boilers, are special, even British Gas doesn't want to get involved in repairing them. To us it is not difficult at all to repair a Powermax boiler providing (1) It is not with a leaking at cylinder body which is beyond economical repair, and (2) The flue integrity is still satisfied. We understand its combustion, and its hydraulics, and particularly its electronics, so we are confident on repairing them.
Powermax 155x FSS boiler scheme example
Don't believe someone says its parts are obsolete, most of them are readily available. As we are a Powermax specialist, we stock some common parts too.
Don't always believe someone said your Powermax boiler is beyond economical repair. He might be not competent on repairing it, and the reason he turned up could just be for a chance to win a new boiler replacement.
Mike Bryant in Reading is an independent expert on Powermax boilers. Here are his websites:
- http://www.powermax-repairs.co.uk/
- https://www.miketheboilerman.com/powermax-155x-and-all-powermax.html
We have to say Powermax boilers do have a dark reputation on safety operation. Here is a death accident by a Powermax boiler at Oxford in 2005:
BBC: British Gas criticised over death
Oxford Mail: Gas poisoning: Two charged
Most Powermax boilers are sited in the central airing cupboards of a flat or house, it is not easy and very expansive to replace a Powermax boiler with a new boiler for the reason of existing long flue run, and for the new requirement of condensation run.
So we will try to fix your Powermax boilers, as long as it is safe. Powermax boilers stopped production in 2004, so the youngest Powermax boilers are over 12 years old now, it might be wise to consider an boiler upgrade option soon.
Please note: Since January 2013, the regulations have been changed on "Flue in void". If your Powermax boiler still has its flue in void (concealed and can't inspected), it is deemed as unsafe and we will switch it off even we can make it up and running after a repair. You need to get a gas safe registered engineer to put inspection hatches along the flue way to comply with the current standards.
Gledhill Thermal Store Repairs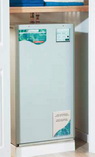 Thermal stores seem to spook many repair engineers (maybe because they are full of water and surrounded by electronics), but we find them quite easy to fix. The majority of problems taking an hour or two of labour plus parts.
Being plumbers and gas operatives, we are also electricians, so we are in a favourite position to fix Gledhill thermal stores.
BoilerMate 2000, SysteMate 2000, PulsaCoil 2000 and PulsaCoil A-class are most popular models.
GulfStream 2000 and GulfStream A-Class are probably the most complicated boilers manufactured so far. They are still on thermal store principles, but each with an integrated gas boiler and an electrical boiler as a whole unit. If you have a GulfStream in your home (most likely new-built flat) and you do need a specialist to check and repair it. We have seen significant number of this type of boilers being deemed unsafe or beyond economic repairs by frontline gas engineers for various wrong reasons. It is a shame when engineers didn't admit they know little about these boilers, but jumped into a conclusion which will cost you fortune for a new system.
Their spare parts are also ready available from plumbing and heating merchants, particularly from the manufacturer own supplier: http://www.gledhill-spares.net/.
Heat Interface Units (Hydraulic Interface Units)
Heat Interface Units (HIUs), or called Hydraulic Interface Units,  are widely used in community heating systems, for example a tower block with a central boiler plant room, the energy of heating and hot water is being transferred to each flat by an interface.
An interface can be a model from these three common makes - Akva, Termix and Vital, but they are all based on Danfoss components.
We have experience on Danfoss interface repairs and service. We stock some common parts for them, as most of their parts are from mail orders.
The most components we replaced on HIU repairs are a zone valve (VMT) for central heating and a thermostatic valve (AVTB) or PTC controller for hot water.
This is Danfoss HIU parts supplier in the UK:
These HIUs are not difficult to repair, but their parts are expsensive.
Electric Boilers Installation
Electrical flow boilers, ranged from 4kW to 11kW, are sometimes alternatives for gas boiler replacements. Particularly in a flat, if a gas boiler like Keston, Maxol or Powermax reaches a stage as beyond economical repairs, due to its their long twin flue run, it is wise to get an electric boiler replacement. Bear in mind electricity bills are twice as much as gas bill.
Due to the limit of electrical cable sizes in domestic properties, an electric boiler has a max 11kW heat output (10mm), such a power output can only be suitable for a flat or small house. Its installation and running costs are significantly low compared with gas boilers, but as said above, its running cost is much higher than gas boiler.
We are not only gas operatives but also electricians. All the work related to a new electric boiler install or replacement by us are up to standards on both plumbing and electrical side.